Satin Glam Pearl Perfection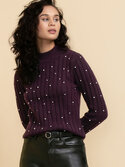 8000HT5143PEARL92
Style: #
3000011221
5 out of 5 Customer Rating
Colour : Purple/Pearls
Please select a colour
Size
Please select a size
---
Wrap yourself in cozy elegance with the Wool-Blend Mock Neck Pearl Sweater, where ribbed texture meets long sleeves, sprinkled with ivory pearls. Who needs diamonds when you've got pearls on your sweater?
Fit & Features:
Hits at the upper hips
Wide-rib texture
Ivory pearls
Mock neck
Long sleeves
Straight hem
Materials & Care:
64% Polyester, 30% Acrylic, 6% Wool
Turn garment inside out.
Hand wash cold separately.
Ease to shape while damp. Dry flat.
Iron at low temperature on reverse.
---
---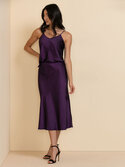 8292HT4833SMIDI446
Style: #
3000010915
4.2 out of 5 Customer Rating
Colour : Crown Jewel
Please select a colour
Size
Please select a size
---
This Satin Slip Midi Skirt is amazing. It comes in Black and Brown Animal Print, and the best part is, it's got an elastic waist and a super easy pull-on style, making it a go-to choice for comfy and stylish outfits.
Details
Materials & Care:
100% Polyester
Turn garment inside out. Machine wash cold, gentle cycle
Wash with like colours. Do not bleach. Hang to dry
Iron at low temperature.
Features:
Elasticized waist
Easy pull-on style
---
Satin Glam Pearl Perfection
$109.80
Total for all products
---
The link to Satin Glam Pearl Perfection has been copied