Not-So Basic Black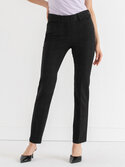 Price reduced from

$59.90

to
$35.94
8272ED4140LPFFSL
Style: #
3000004752
5 out of 5 Customer Rating
Colour : Dark Charcoal
Please select a colour
Inseam
Please select a inseam
Size
Please select a size
---
These Spencer Straight Leg Pants in Luxe Ponte are part of our Fit Solutions™ lineup, giving you a perfect fit that will help you look and feel your best every day. A season-spanning versatile style that will take you from nine to five and beyond!
Custom Fit Waist minimizes waist gap and moulds to your figure
Luxe Ponte
Fly front, straight leg
70% Rayon 26% Nylon 4% Spandex
100% Polyester trim
Machine wash
In-seam length: Short - 28", Regular - 30", Long - 32"
Web only: X-Long - 35"
Model Height: 5'9
---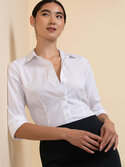 Price reduced from

$49.90

to
$29.94
8194ED2103LSPOP752
Style: #
3000010779
4.6 out of 5 Customer Rating
Colour : White
Please select a colour
Size
Please select a size
---
Every woman needs a crisp, white shirt in her wardrobe arsenal. This Talia Fitted Collared Shirt is perfect for the office or pair it with jeans for an evening out with friends.
Details
Materials & Care:
65% Cotton, 32% Nylon, 3% Spandex
Turn garment inside out. Machine wash cold, gentle cycle
Wash with like colours. Do not bleach. Hang to dry
Iron at low temperature.
Features:
Button front
Button cuffs
Tailored fit
---
Not-So Basic Black
Price reduced from

$109.80

to
$65.88
Total for all products
---
The link to Not-So Basic Black has been copied