Work-It Wednesday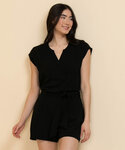 Price reduced from

$39.90

to
$23.94
9289ED2133HEN4747
Style: #
3000010707
4.2 out of 5 Customer Rating
Colour : Black
Please select a colour
Size
Please select a size
---
This Linny Extend Sleeve Henley blouse is a layering basic that can be worn alone or under a blazer. It features a hidden placket, and a back pleat, and is versatile for any occasion.
Details
Materials & Care
100% Polyester
Turn garment inside out. Machine wash cold with like colours, gentle cycle.
Do not bleach. Hang to dry. Iron at low temperature.
Features
Y-neck with 2-button hidden placket
Back pleat
Extended sleeves
---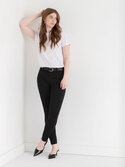 Price reduced from

$59.90

to
$35.94
8277ED4131P5PKTSKD
Style: #
3000006888
3.3 out of 5 Customer Rating
Colour : Charcoal Melange
Please select a colour
Inseam
Please select a inseam
Size
Please select a size
---
Slip into style. The Harlow Skinny Pant in Luxe Ponte will go with any top in your wardrobe. Your closet will thank you.
Details
Materials & Care:
67% Rayon, 28% Nylon, 5% Spandex
Machine wash cold, hang to dry.
Features:
Inseam: Short 27"
Inseam: Regular 29"
Inseam: Long 31"
Inseam: X-Long 33"
5-Pocket style
Button-front
Pull-on style
Model Height: 5'9
---
Work-It Wednesday
Price reduced from

$99.80

to
$59.88
Total for all products
---
The link to Work-It Wednesday has been copied